Hi FashShes and FashHes,
My name is  J. Shan' Trice and I have been head-over-heels in love with fashion my entire life. In grade school, I was always getting in trouble for being outside the box with my rendition of school uniforms. I loved finding exciting pieces to spice up my wardrobe and accessories to make my outfits stand out. I was a fashionista before I even got my first real boyfriend because fashion has always held a very special place in my heart 
.
How J.Shan'Trice Started Modeling
So, at 15 years old, I was named by multiple former ANTM contestants the winner of a local modeling competition in Dallas, Texas. What I didn't know at the time that winning that competition would change the rest of my life.
Being a professional model has blessed me with so many opportunities. I've walked runway shows like New York and Miami Fashion Weeks. In addition, I've had the honor of gracing the cover of several magazines, being published in celebrity featured ads and attending events rubbing elbows with some of the most renowned people in the fashion industry. Since winning that modeling competition I have hit the ground running, chasing my dreams of being a well-rounded fashion mogul.
I've always believed that fashion is so easy and being stylish should be fun and been bold about expressing it. What about you? In 2013 I started posting up the daily outfits that I called, OOTDS and I earned a lot of attention from some fashion high rollers like Tyra Banks and Draya Michele who took to social media & announced that I am a force to be reckoned with. These outfit posts later turned into an entire fashion blog that further established my good name within the fashion industry.  I became known for having a fierce runway walk at only 5'6 in height, giving fashion tips, and covering fashion collections and events around the Dallas, Ft. Worth area.
From Model to Mogul
I continued chasing my dreams when studying Fashion Merchandising and Digital Marketing at the University of North Texas after graduating high school at 17 years old. Another proud accomplishment has been being featured on the fashion blog, Fashion Bomb Daily as the Fashion Bomb Shell of the day, further pushing me to master a fashion brand of my own.
Over the years the Fashionaire She blog evolved from just outfits of the day to thrift finds and covering fashion events including Runway & Trade Shows, travel, beauty, and lifestyle content. Fashionaire She is giving the up and coming fashion movers and shakers a platform to expand their reach and explain their chance to get noticed by even larger brands.
Thank you guys for stopping by Fashionaire She! I'm excited to create more fashionable content for your enjoyment. We hope you return to my website for more fashion refreshments from me. Most Importantly, please don't forget to follow us so we can connect on all social media outlets. Instagram is currently my favorite social media outlet and the best way to keep up to date with everything J. Shan'Trice and Fashionaire She.
THE GIVEAWAY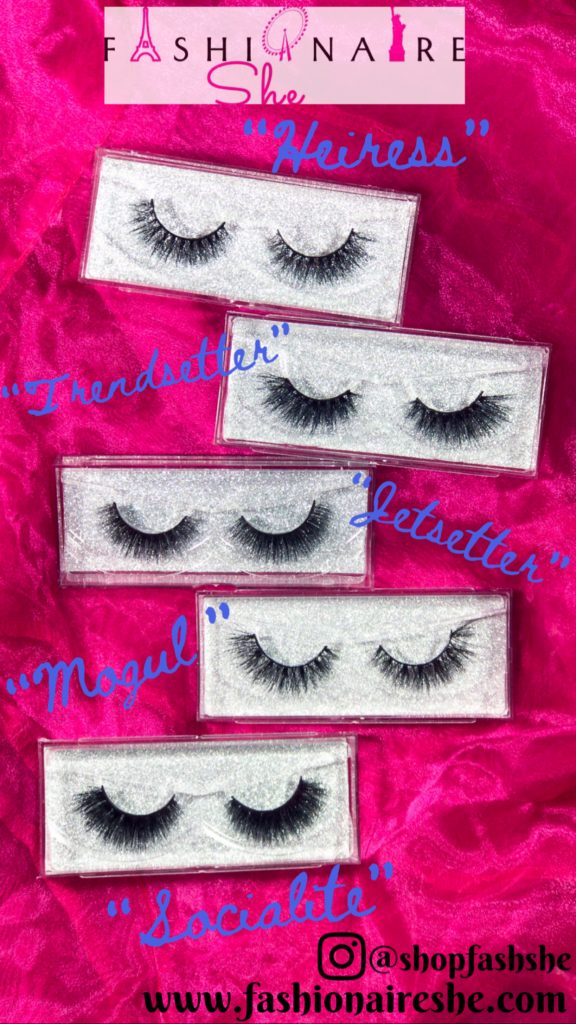 I currently have a goal of obtaining 10,000 followers on Instagram and I'd love for you to be one of them. As a celebration of this Relaunch, my followers will be eligible to enter my very first GIVEAWAY to receive the entire Fashionaire She 3D mink lash collection for FREE!
That's right, two lucky winners will get the Mogul, Trendsetter, Socialite, Jet Setter, and Heiress Mink eyelash strips and a $35 Fashionaire She Gift Card as a gift to show my appreciation for your support. (Contest Ends 8/25/2020 @9a.m) All you have to do to enter the giveaway is make sure that you are following the @fashionaireshe @modeljshantrice & @shopfashshe page on Instagram, Sign up/ subscribe to the email list here on the website, and tag your favorite Instagram Fashionista on the original contest post on @fashionaireshe Instagram with a bonus entry if you repost the contest picture to your Insta Story. The Winners, chosen at random. They will be announced on the original Contest post on August 25, 2020, and here on the blog. Winners will have 24 hours to respond or another contestant will be chosen at random.
This Is Fashionaire She
The Fashionaire She Goal is to inspire the fashion industry and others. Through wardrobe styling (see port), branding, and boosting women's confidence while upgrading their wardrobe. Because, as the old saying goes  "when you look good you feel good, and when you feel good you do more to look good". I am excited about our new journey together. I hope that I can grow my website to new heights and become your go-to stop for everything stylish. Comment below and let me know of anything you'd like to see on the blog or sold in the boutique. Until next time Fash She's and Fash He's… Let's go conquer the world, stylishly!
xoxo -J. Shan'Trice